Youth Media Day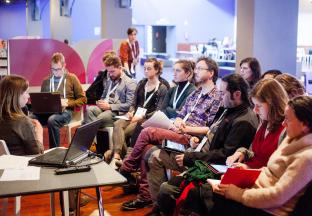 On the 7th of November, the Flemish Minister of Media organised a seminar on media production by and for  youngsters and grown-ups still feeling young. Students in journalism, starting media professionals in the early days of their career, members of youth media organizations, youth press agencies and professionals from the classical and online media share experiences, learn from each other and are inspired by each others' enthusiasm and creativity.
One of the workshops during the seminar was focused on media knowledge. Villa Crossmedia was asked to deliver the content for this workshop. Elke Van Soom, coordinator of VXM at Thomas More, gave a presentation based on the research report she wrote, which contains the results of several focus groups with young people aged 12-25, held in the partner cities of the project. Together with the participants, we looked upon occuring problems concerning media knowledge and we discussed possible solutions. 
The presentation can be found under 'research'.
© Photo by Pitslamp - Filip Bunkens